---
HOW TO FIND WHAT YOU'RE LOOKING FOR:
The website is sorted by track, so please use the buttons above to navigate.
Currently over 3500 titles available and counting! Dozens of tracks featured both in the UK but also Internationally with for example all World Finals of the 80s having been filmed by KM Video.
The main focus of this website is the British League.
However - the three bottom rows of links are dedicated to everything non-league related, including Grass Track meetings, Indoor meetings, Sidecars etc. etc.

Rider related Benefits, Farewells, Memorials and Testimonials are listed on both the specific track's page and on the RIDER SPECIALS page.
Big open meetings plus various league and cup finals etc. are on both the specific track's page and on MEETING SPEECIALS page
---
The long awaited dvd release of "Fall of the Kings"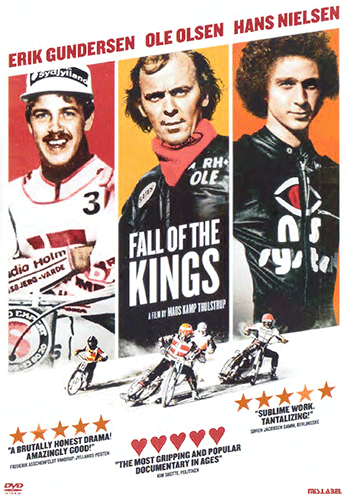 They conquered the World. They united a nation. But then it became personal.
In the middle of the 1970s the young speedway riders Hans Nielsen and Erik Gundersen travelled to England to chase the dream of becoming World Champion, just like their idol Ole Olsen. But soon it becomes clear that there is only room for 1 on the throne. The story of Danish speedway's heyday is about a close bond between three men who, in time, go from friendship to ice cold rivalry - borne by their ambition to become the best and win gold for Denmark.
Fall of the Kings not only depicts a dramatic piece of Danish history but is also an entertaining re-enactment of the era in which the drama takes place: the 1970s and 80s. The three main characters all star in the movie which also offers never before released footage.
Click logo to see

trailer.
DVD print production, with English subtitles.
Comes in a sealed dvd case, with colour covers inside and out, and printed disc.
---
Visit Retro-Speedway to subscribe to the outstanding publication: Backtrack.

---
Do YOU own a speedway video collection?

Do you have a box (-or even boxes!) full of old speedway videos up in the loft?
Are VHS / S-VHS / Betamax / Betacam / U-Matic or DV cam tapes taking up some much needed space in the house?
Are you thinking of disposing of your speedway tape collection?
You will be surprised at the amount of tapes that are thrown out (yes, thrown out!), end up at the tip and are lost forever.
Please let me help, and don't destroy what is essentially part of speedway history!
Drop me a line, and let me help: classicspeedwayvideos.com
---
HOW TO ORDER:
Please select the discs you would like by using the "Add to Cart" buttons next to each title.
When you're ready to check out, please use the "View Cart" buttons that are placed towards the top of each page.
Alternatively you can contact me by email below, and arrange for payment by cheque, BACS, cash, or over the phone via credit card.
PRICING GUIDE:
Single discs : £4.99
Double meeting discs: £6.50*
Double disc sets: £8.00
Box sets and boxed titles are individually priced.
*NB All discs are transfers of the original production, i.e. it is not possible to pick any 2 meetings and ask for them on one disc.

Discounts are offered on orders of 10 discs or more. Please enquire about details.

All discs will be supplied in a plain cd sleeve, to keep prices as low as possible, and in most cases are sent out within 24 hours of ordering. I will contact you in case there is a delay with your order.
Overseas orders are welcome, please email to enquire about postage costs before placing an order.

contact email: classicspeedwayvideos.com



---
The small print:
Please keep in mind that in many cases the originating footage is 30+ years old, all recorded on analog magnetic storage, long before digital video became the norm.
Converting the literally hundreds of masters is an ongoing process and, as you can imagine, very time consuming so please check back often as new titles are added on a weekly basis.
All customers will receive our periodic news emails, so you don't miss any important news regarding the collections.
Don't worry - emails are on average monthly at most, and it is very easy to unsubscribe if you don't want to receive them.
Although every care has been taken during the transfer to dvd, the odd VHS flicker cannot be avoided.
Only hi-grade Verbatim dvd-r media is used.
Due to the nature of the product, refunds can not be given, although faulty discs will be replaced.
---
For latest news: Follow @ClassicSpeedway on Twitter - and 'Like' us on Facebook!
You can also follow @staechmanager on Twitter!